Turn.js has been an easily available flipbook solution for javascript developers. Though it is released under a non-commercial BSD license, it still attracts many users due to its public availability on GitHub. For initial implementation and providing a good idea about flipbook, turn.js has been pivotal in the flipbook industry.
Turn.js has shown it's age recently, due to many factors.
The code is not updated for more than 8 years, looks like an abandoned repository. The new version 4.0 requires licensing and is available only on turnjs.com. It's understandable for a library to go towards commercial trajectory after a long time. Turn.js has seen the same fate.
Turn.js was developed to support HTML and image, while these are basic to use, they are not as convenient as PDF documents that are prepared by many publications. Converting PDF to images is again required to use them in turn.js
Many new flipbook support 3D look and feel that turn.js is lacking. With the downfall of Flash, HTML5 canvas and WebGL 3D is now a common ground in modern browsers. And with that advantage, 3D flipbooks are gaining popularity among modern browsers.
So what are my alternatives for turn.js?
While turn.js is itself a capable flipbook solution, many competition and alternatives do exists in the same area. Publications include their monthly magazines, ebooks on their websites. Flipbooks provide a very near experience of reading a book or a magazine. Some even make it realistic as if it's a real book that you are reading.
DearFlip works best for Magazines, Ebooks, photo albums, etc.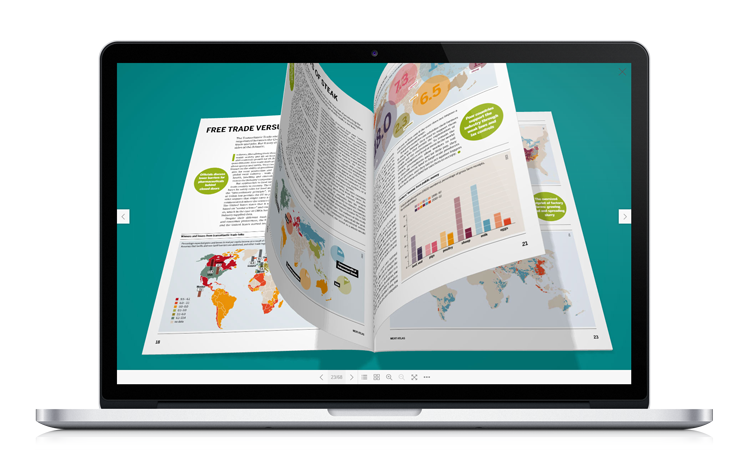 HTML documents vs PDF?
Dearflip supports Images and PDF format as content Source. Turn.js support HTML format but DearFlip doesn't. HTML requires a knowledgeable person to maintain the pages and proper CSS design is required so that it looks good in both desktop and mobile. PDF files are easy to create and maintain.
PDFs are easy to create with as simple as a word processor. Consider a scenario where a novel is written or a magazine is designed. Then the novel needs to be converted to HTML pages, each HTML page for each page of the novel! That's a lot of workloads!! PDFs are just exported from any Word processor, it a global format and widely accepted. DearFlip recommends PDF over Images.
PDFs are easier to maintain, export and are device independent!
DearFlip works best for Magazines, Ebooks, photo albums, and so on. All in all a virtual counterpart of books and magazines that is read in real-life.