For any website, the content has become the king. Images for Instagram, posts for FaceBook, articles for blogs, and more. Some contents work best in image format, some in videos, some in PDFs, and so on. Presenting text content and documents is more challenging – since it's not as interactive as images and video. But such contents are important in certain websites. Displaying PDF documents is important for shopping sites as catalogs; service sites as portfolio and documentation; business sites as official documents, annual figures, and instructions. Many have different purposes for displaying PDF documents to clients. PDFs are no fun to read! But flipbooks are!! There are plenty of WordPress Plugins available and we will talk about some of the best.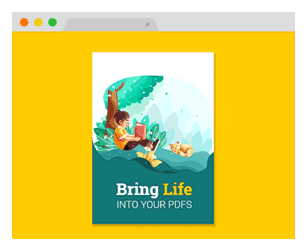 Free WordPress Flipbook Solutions:
Flipbook makes images and PDFs interactive, engaging, and fun to read. Nowadays many powerful flipbooks are available that have direct PDF support and easy to use. Some even have a realistic 3D look and feel, as if you are reading a real book on your screen. That's a really neat and fancy way to present your boring content and engage your readers/customers to your page. There are many free solutions for WordPress, but more or less most are demo or lite versions for the Full premium versions. But none the less, even the lite version can serve the purpose in most of the situation. It's better to try before getting the full paid versions, so they are good to look at anyway.
3D Flipbook – Dflip Lite:
3D Flipbook – DFlip Lite gives your dead-looking PDFs a new life. It uses WebGL for 3D and HTML5 & CSS for 2D WordPress PDF Flipbook. This plugin can assist you through the process of creating an eye-catching realistic WordPress Flipbook. Similarly, dFlip is effortlessly easy to use. With dFlip, your PDF is reborn with a "real" feel of a real book with a page-turning effect on all devices. You just need to add a link to your pdf and it changes into a stunning flipbook.
Among dozens of Flipbook WordPress Plugins, DFlip offers great customizability. Along with that, it is compatible with both older & newer versions of WordPress. You can download it as well as translate it in any language. Also, you can share your flipbook on social media such as Facebook, Twitter & Gmail.
DFlip lite is free of cost. Yet 25,000+ customers love DFlip's cost-effectiveness as its regular license costs only $37. Additionally, DFlip has been known for its excellent customer support and frequent updates. Impressed? After all, trying by self is a stroke of a genius 😉 Just download it now and clear your confusion.
FlowPaper – Lite:
This is a PDF viewer and flipbook plugin developed by FlowPaper – a publishing platform that provides this flipbook WordPress plugin as a bridge to documents in FlowPaper's site. It also supports PDFs from the WordPress site and converts them to PDF flipbook with a shortcode. With Flowpaper we can embed our catalogs, portfolios, magazines, brochures, and much more in the form of HTML5 flipbooks. Similarly, this plugin is compatible with almost all of the browsers and devices.
Following the trend, Flowpaper gives you options to choose between the light theme or the dark theme. But it has the 15 MB pdf file size limitation which sometimes is much less.  If you need to use a pdf file of a size larger than 15 then it must be uploaded to the FlowPaper cloud. Is $99 is under your budget? Then you can have the basic upgrade while it is a bit costly to buy an advanced version.
FlowPaper is a free flipbook WordPress plugin but you're only allowed to use up to 10 pages. Unlike the previously discussed plugin, this plugin not that cost-effective as it costs$145+ for the more advanced version.
Interactive 3D FlipBook – Lite:
Interactive 3D FlipBook is another PDF Viewer or Flipbook WordPress plugin that allows browsing images, PDFs or HTML as a flipping book. The flipbook created by this plugin also helps to attract user's attention as well as make more impression on them.
This is a lite version of the 3D flipbook that was initially distributed on Codecanyon and now sold through Gumroad. This lite version creates a 3D representation of PDF flipbook using PDF.js as an underlying PDF rendering technology and then integrated with WordPress CMS for content publishing. As mentioned in the review, it uses iFrames to display the flipbooks so customizations are difficult for some customers.
Similar to other plugins this Flipbook WordPress plugin is also able to simulate the book opening process. It can perform page flipping animation. Additionally, Interactive allows customizing the shape of flipping pages. It is also cost-effective but not compatible with lower than 4.3 versions of WordPress. Interactive is available in both free and pro versions.
More about Interactive FlipBook Pro
Yumpu ePaper Publishing
It is open-source software. This Flipbook WordPress Plugin enables you to upload your pdf file and converts it into an online readable ePaper on your website.
You can insert the ePaper into your posts and pages via shortcodes. Your visitors can then read your publications, without having to download the whole document. No installation of any browser-plugins is necessary. The ePaper can be read with Flash or HTML 5.
This Flipbook WordPress plugin is easy to integrate. Every Yumpu ePaper can simply be integrated into your website by using an embed code. There are many options you can choose from when generating the embed code. For example, you can define color, size, border and much more.
Issuu PDF Sync
Similarly here you have another option for creating stunning flipbooks in your WordPress site. Issuu PDF Sync is a Flipbook WordPress plugin that allows you to create Flipbooks with the http://issuu.com service.
Issuu PDF Sync is pretty simple to use. You can create your brand new flipbook with this Flipbook WordPress plugin within a few steps. Just get a free key that synchronizes all your PDFs on the site. Then you're good to go. You can insert flipbooks inside your posts right from the WordPress admin panel.
The new Issuu API has fewer customization parameters than the old one but it works on mobiles and tablets. Old API lets you customize more options but works on desktop only. This Flipbook WordPress plugin offers 3 types of licenses. You can choose any of them.
Starter for $19
The premium for $35
Optimum for $269
Free and lite versions have various limitations that only a premium WordPress flipbook plugin can provide. Such and PDF links, 3D options, customizations, any amount of pages and so on. While they require investment but make for it with various features. We have collected such worthy plugins that can improve your flipbook experience on your site.
Conclusion: