Realistic 3D Flipbook WordPress Plugin for your site
DearFlip is also available as 3D Flipbook WordPress plugin for your WordPress sites. We also have a free demo version for you to try.
Now you have an amazing and 3D Flipbook viewer that engages your customers with its realistic book alike experience.  
More Examples of Flipbook WordPress
We have a collection of flipbooks for brochures, catalogs, magazines, annual reports, photographers portfolio, manuals and more.
WordPress Flipbook posts that are easy to create!
All you need is a PDF link to the PDF and your shortcode for flipbook is ready to use. It's that easy and instant. We support Image flipbooks too. Add the images you want be part of flipbook and boom!! You have your Image flipbook ready.
Try our Free 3D Flipbook WordPress Plugin!
DearFlip – 3D Flipbook WordPress plugin offers amazing features in 3D Flipbook WordPress Plugin lite-version as well. Get the Free demo version of WordPress flipbook plugin and start creating amazing 3D Flipbook.
Give it a try, it's available in the official WordPress Plugin directory and already in use by thousands of users.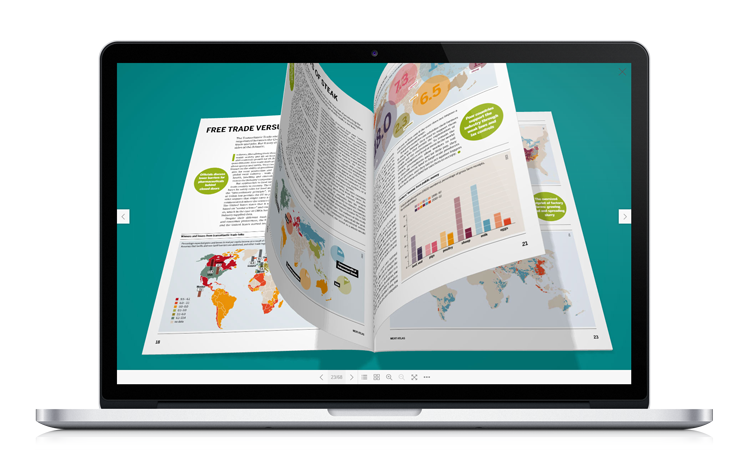 How our customers value DearFlip
This is a GREAT plugin, exactly what I was looking for: making it possible to show magazines on your websites. Very good support also, with very quick responding. I'm so happy with it :-))) !!!
Awesome Flip Book plugin!!! By far the best I've found! Very clean and can customise everything you need! Recommend to all! A+
Excellent plugin for sites that have many pdfs to showcase. Works great in both Desktop and Mobile. It is also very customizable to fit your needs. The support is also awesome and pretty fast. What else should anyone ask for? Thanks!
Frequently Asked Questions
Do the customers require Flash to run DearFlip?
Flash is almost an obsolete technology, so the platform is not future proof anymore. DearFlip doesn't rely on flash. DearFlip is driven by modern HTML5 and WebGL technology to create a Realistic 3D Flipbook. WebGL is supported by majority of browsers and is also available in mobile devices. So all you need is a browser and DearFlip will be able to run on it.
---
So Flipbooks could be read just like a real-life book?
Yes, your Flipbook WordPress posts are converted to look alike real-life books. Flipbook is more or less a digital representation of a real-life book. Conventionally you had to create each page for the online Flipbook. But as technology has advanced, we can now create an online flipbook directly with PDF files. Now your boring PDF file is lively and much more exciting through Flipbook WordPress Plugin.
You won't need to convert PDFs into multiple images to create Flipbook. The PDF is supported directly. The flipbook has all the links and table of content available right away.
---
So Why DearFlip?
DearFlip Flipbook WordPress plugin provides easy to use solution for WordPress users to convert their PDF to Flipbook easily. All you need is a PDF link and the Flipbook is ready to roll. DearFlip provides a realistic 3D flipbook experience. They are realistic and behave just like a real-life book, The realistic flipping effects, sound, and look provides an engaging environment for the PDF Flipbook. The users are more likely to read the PDF document since the document is no in a much more friendly book format.
---
What features of PDF are available in PDF Flipbook?
PDF is a very versatile document format. It has many advantages that are really handy when it comes to document sharing. It works as it is in almost every device and the content doesn't change even when viewed on different devices. PDF content is maintained in DearFlip it looks similar to almost every reader, just more realistic. The links in the PDF document work right away.
---
I don't have any prior knowledge about programming. Is DearFlip appropriate for me?
Of-course! Yes. With DearFlip Flipbook WordPress plugin, you don't need to have any programming knowledge. Just some knowledge about WordPress and how to use the WordPress plugin is more than enough. Even if you don't know how to use the Flipbook WordPress plugin, there are user manuals, YouTube videos, medium articles as well as blogs available for you to learn how to get started with it ease.
---
I get CORS message and File not found Issue!
CORS is a condition when a request is made for files between different origins. Remember, the origin is separated by any protocol, domain, and port too. It's not just about domains. So, https://abcd.com and http://abcd.com are different origins. Similarly, https://123.abcd.com and https://abcd.com are also different.
So in the origin server where WordPress flipbook plugin files or PDFs are located proper CORS setup is required which is explained at our FAQs and Issue section.